Training Systems For Adults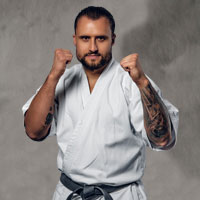 There are many reasons why adults participate in Taekwondo training. It is a great way to get in shape and maintain a sound physical fitness regimen. It also is an excellent way for you to gain the proper self-defense skills that every person should have in today's society. The benefit of knowing how to ensure your safety in any given situation gives you a sense of control and empowerment over everything you do in your daily life.
Adult Taekwondo…
Specifics:
This training system is effective for adults, no matter what the fitness level or age. It teaches the basic fundamentals of self-defense while providing a strong cardiovascular workout. The high level of personal challenge also aids in relieving stress and tension.
Benefits:
The physical and personal benefits of this system can help teens and adults: • Relieve tension • Increase stamina • Lose weight • Reduce stress • Develop a new enthusiasm for life • Gain confidence • Improve coordination • Get and stay in shape • Spend time with your friends, spouse, and children when everyone trains together.
Teaching Concept:
The Kowkabany's Family Taekwondo / ATA's Adult Taekwondo system is a lifetime learning concept based on centuries-old martial arts. As everyone needs to spend time "sharpening the saw," our instructors will also work with students on adult life skills including advanced goal-setting, self-discipline, and self-control.
PROTECH…
Specifics:
This training system is available to students in our advanced training classes. Students will increase their self-defense skills while developing hand-eye coordination. Through the use of PROTECH systems, we will incorporate training in: Pressure Point Control Tactics, Simple Joint Manipulation, Ssahng Jeol Bong (Nunchuku) • Bahng Mahng Ee (Stick), Jahng Bong (Bo Staff), and Knife Defense.
Benefits:
This training will provide a more extensive martial arts knowledge, increase one's self-defense skills, build upper body strength, and improve eye-hand coordination.
Teaching Concept:
The PROTECH system is based on centuries-old martial arts techniques, adjusted for effectiveness through the knowledge provided by modern day science and advanced teaching principles.